Happy Wednesday, everyone! It's the first Wednesday of the month so that means another Fave Things post – and this week is (Super)Heroes.
Captain America

I love Cap. ADORE. And not just because he's HAWT (and he is), but as a character he is fascinating to me. And he's kinda broken – which apparently I have a thing for. Even when young and weak, he wanted to do the right thing. And even though now, he's changed physically and is out of his time, a part of him is still that bullied young man who wants to to do the right thing.
Daryl Dixon
Oh Daryl. Yeah, yeah he's not a SUPERhero, but he's a damned hero. I love him and his character development over the course of the series. I can't wait to see where they take him in future episodes. If they fuck him up, though, the destruction of Atlanta we see in the show? It will pale in comparison to what I with bring with my wrath.
The Doctor
EVERY REGENERATION! Including the latest…
How can you not love the Doctor? Major timelord love happening here. Even the dark side of him…oh yes. I love the complexity of the character, the different layers. That there's so much about him we still done know.
Sydney Bristow
From the show Alias. Again, no super powers. But she's super and she's a freaking hero. Gorgeous, kicks ass, saves the world. I will admit to having a crush on her.
Merlin
It's no surprise the sorcerer ends up on my list, is it? Yeah, didn't think so. Oh, Merlin… So determined to do the right thing and ends up fucking it up ten ways 'til Sunday. He's clumsy, yes. But it's endearing. He puts aside his wants (namely the ban on magic lifted) to see Arthur and Camelot safe. And he's funny and snarky, and his love for his king… Definitely tops my hero list. 🙂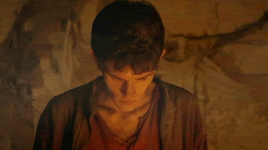 Bronwyn Green • Gwendolyn Cease • Kayleigh Jones • Kris Norris
Until next week!
Hugs,
~J